Welcome to Life Teen at Saint Rose!
Our St. Rose Life Teen program is aimed at leading teens closer to Christ! Through weekly Life Nights, conferences, camps, retreats, service projects, just-for-fun trips, and opportunities for leadership development, teens at St. Rose can find a community of their peers dedicated to growing in faith and fellowship.
Join us this summer!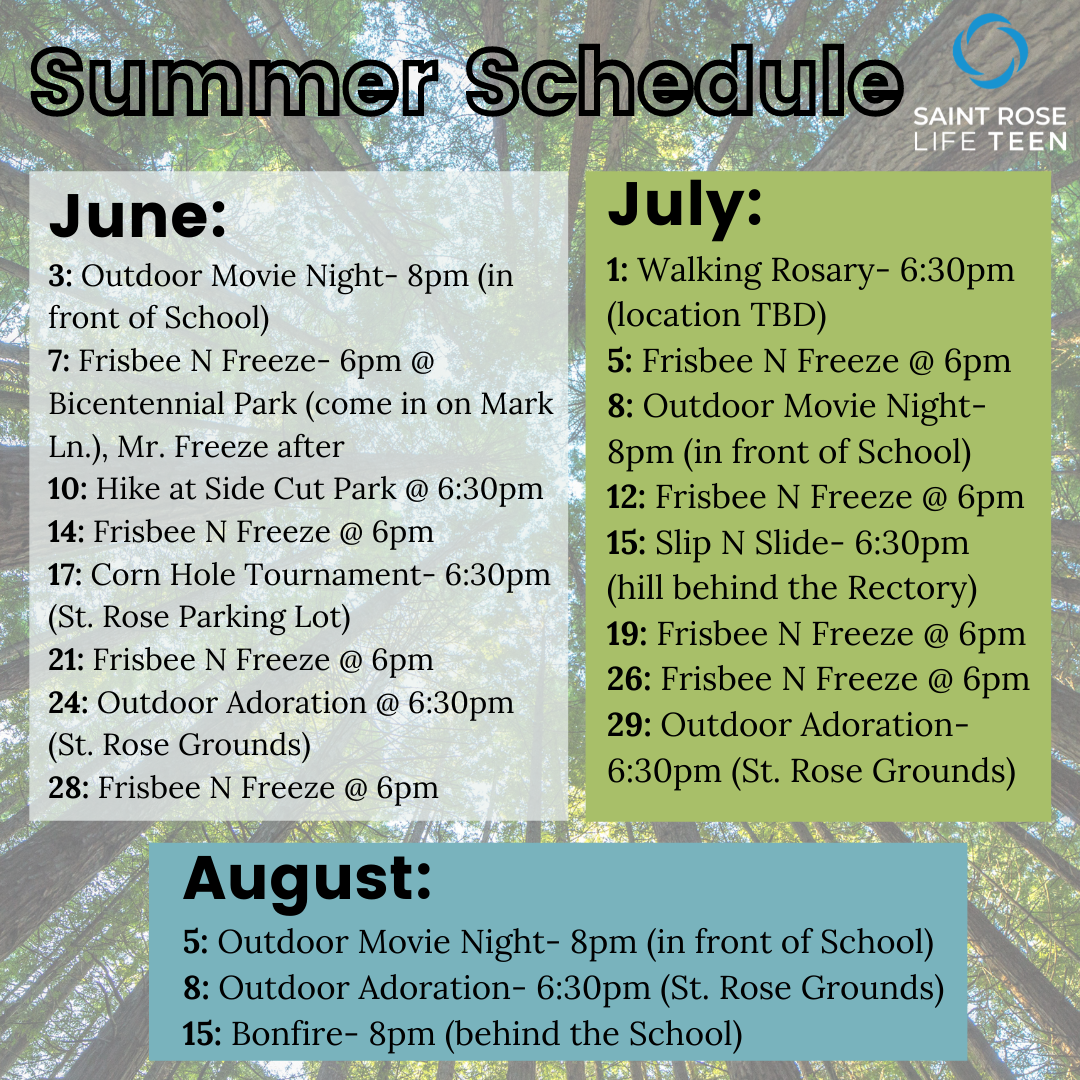 Note: Events and dates are subject to change
---
All high school teens are welcome to participate in any Life Teen event! Every Sunday during the school year, teens and their families are invited to join us for 5pm Mass. After Mass, we invite teens in grades 9-12 to join us for the Life Night.
This year due to COVID restrictions, there will not be dinner served after mass. The Life Night will go from 6-7:30pm and will be in the church basement.
*All students participating in Life Teen must be registered as well (registration link on side bar)
*Students who participate in Youth Ministry events are required to fill out a photo release form (on side bar)
*Off-campus events will require an additional form (permission slip on side bar)
LIFE NIGHTS
Life Nights are at the heart of our high school ministry program! All teens in grades 9-12 are invited to join us every Sunday Night for food, friends, faith, and fun! Students grow in fellowship with one another and dive deeper into their faith through talks on relatable topics and discussions. They are also introduced to various forms of prayer, with the ultimate goal in mind of growing closer to Christ in the Eucharist.
Interested in becoming a Core Team Member or volunteering in other ways?
Contact Lauren Strauss at strauss@saintroseonline.org
or call 419-874-4559 ext.225