Eucharist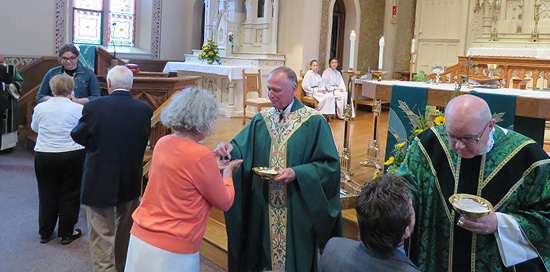 The Vatican Council II stated well that the Eucharist (Holy Communion) is "the summit toward which the activity of the Church is directed; it is also the fount from which all her power flows." (Sacrosanctum Concilium, no. 1029)
First Holy Communion
Most children celebrate their First Holy Communion in 2nd Grade as part of the Religious Education (PSR) program.
Extraordinary Ministers of Holy Communion (EMHC's)
EMHC's play a vital role by distributing the Holy Eucharist during Masses, and also to those who are unable to attend Mass. Volunteers receive ongoing training. Are you interested in becoming an EMHC or need more information? Learn More
The USCCB has put together a very nice document that helps us to enter more profoundly into the Eucharistic celebration, receive Holy Communion more worthily, and thus obtain more fully the grace of communion with the Lord Jesus. It gives both general theology and specific details.
View the document (PDF).